Super Nova Elite
When you need a premium machine with all the bells and whistles then you need a Nova Elite. Offering advanced features, hightech design and a sensible price its the worlds most desirable desktop laser engraving/cutting machine. Available in Glass, Metal or Ceramic tube options.
Available in 60/80/90/100/130/150/180 and 300 Watts of Power
We sell to any country in the world & can ship upto 2 kgs for just $22(USD) per shipment.
Specification
| | | | |
| --- | --- | --- | --- |
| Model | NOVA10 Super | NOVA14 Super | NOVA16 Super |
| Working Area | 1000*700mm | 1400*900mm | 1600*1000mm |
| Machine Size | 1500*1210*1025mm | 1900*1410*1025mm | 2100*1510*1025mm |
| Laser Tube | CO2 Glass+RF Metal Tube | CO2 Glass+RF Metal Tube | CO2 Glass+RF Metal Tube |
| Electric Up & Down | 200mm Adjustable | 200mm Adjustable | 200mm Adjustable |
| Machine Net Weight | 450Kg | 520Kg | 620Kg |
| Machine Packing Weight | 530Kg | 660Kg | 730Kg |
| Packing Size | 1600*1320*1225mm | 2000*1510*1225mm | 2200*1650*1225mm |
| Input Voltage | 220V AC Single Phase 50Hz/60Hz, Optional for 110V AC Single Phase 60Hz | | |
| Rated Power | 2600W | | |
| Engraving Speed | Max.2000mm/Second | | |
| Acceleration Speed | 5G | | |
| Cutting Speed | 0-800mm/Second | | |
| Laser Optical Control | 1-100% Set by Software | | |
| Minimum Engraving Size | Chinese CharatOr 2.0mm.2.0mm, English Letter 1 Omm.1.0mm | | |
| Max Scanning Precision | 1000DPI | | |
| Locating Precision | <=0.01 | | |
| Cutting Thickness | 0-30mm(depends on different materials ) | | |
| Engraving Software | RDworks,Optional)lightburn | | |
| Graphic Format Supported | DSP/PLT/EIMP/DXF/Al/DWJ etc. | | |
| Compatible Software | CorelDraw/Photoshop/AutoCAD/All kinds of Embroidery Software | | |
| Worktable | Honey Comb+Aluminum table | | |
| Auto Focus | Integrated Autofocus | | |
| Red Dot Positioning | Yes | | |
| Rotary Device | Optional | | |
| Built-in WIFI | Optional | | |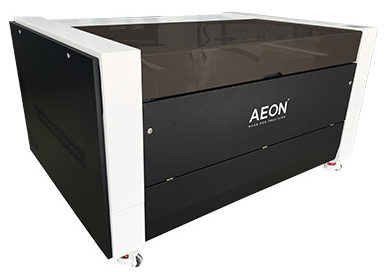 1. Super strong fully enclosed machine body.
The Super NOVA is built like a tank. The main structure adopted thick steel tube, which ensured the strength. The whole body was fully enclosed, with sealing on every door and windows, much safer.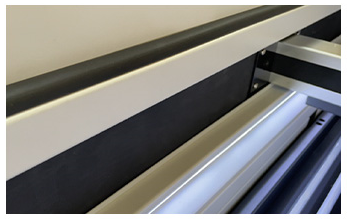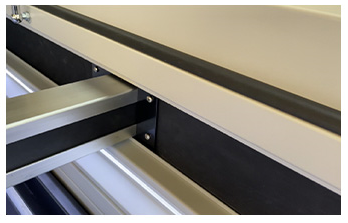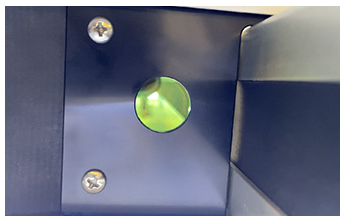 2. Whole optic path and guide rail clean pack design.
Aeon Laser's signature clean pack technology has taken the next step in the evolutionary process. Not only are the linear rails and bearing blocks enclosed (as in previous models), but protective curtains on the left and right side of working area now prevent unwanted particles from the motion system as well as optic path. These will greatly reduce the maintenance of the machine and enhanced the engraving outcome.
3. Metal RF&High power DC glass tube together.
The Super NOVA combines the best of both worlds with its innovative dual source design. Finally, a laser that combines the ultra high resolution and speeds customary of metal RF laser tubes, with the superb cutting performance that only a glass DC laser tube can provide.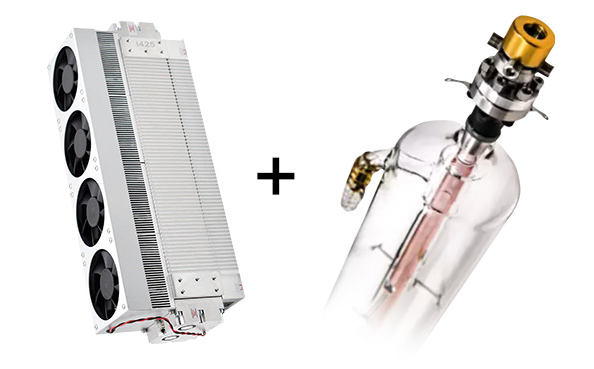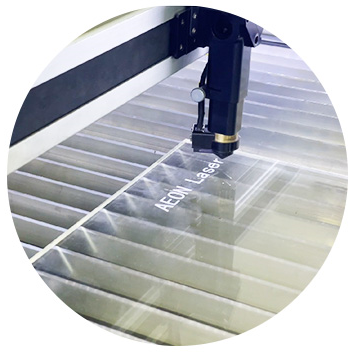 4. Seamless source switching.
Switching between the RF metal tube and the DC glass tube,happened smoothly and fast. The software automatically triggers the appropriate laser tube and mirror position in roughly half a second.
*Nova models have 200mm Z up/down lift platform with the vacuum table.
5. 2000mm/sec scan speed, 5G acceleration speed.
Aeon's newly designed, lightweight laser head, paired with high speed, hybrid stepper motors, is sure to leave the competition in the dust. Experience an astonishing blur of acceleration with top speeds reaching up to 2000 mm/sec.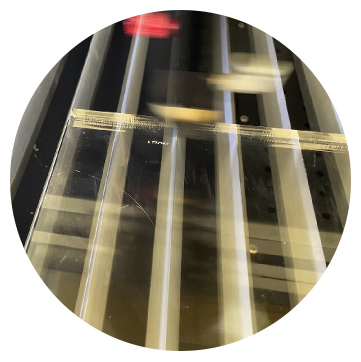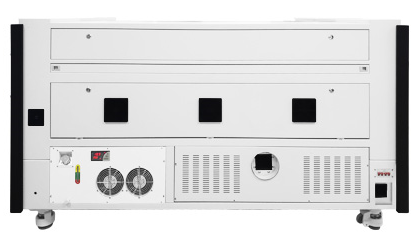 6. All in one design, built in 5200 Chiller, blower and air assist.
Installing a large format laser in a confined space, has never been more practical. Enjoy a clutter free workspace with a built—in 5200 water chiller, exhaust fan and air pump. All components are still easily accessible and can be removed for routine maintenance.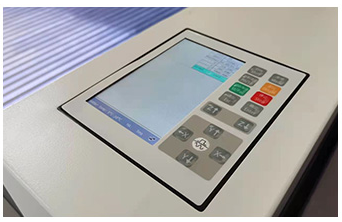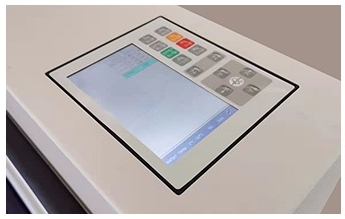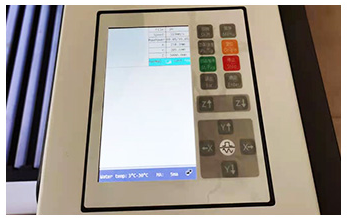 7. Streamlined Ruida keypad.
Another industry first is the all new redesigned Ruida controller, which brings commonly used functions right to the surface, for increased setup times and overall ease of use. You can even monitor amperage (mA) and water temperature right from the display screen.
8. Integrated Autofocus.
The newly designed laser head features an integrated auto focusing mechanism that is lightweight and a whole lot more reliable. It's encapsulated right inside the nozzle, to shield it from smoke and debris. Say goodbye to collisions and gouged material.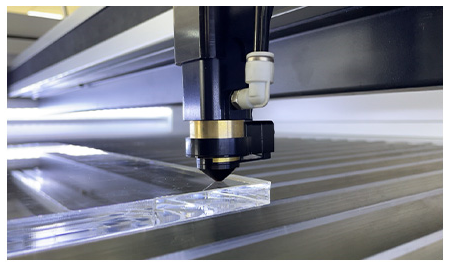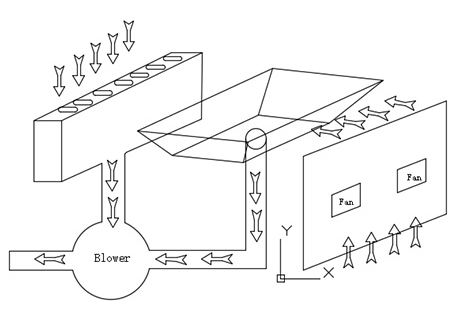 9. Active airflow.
Say goodbye to excessive soot buildup on your material and in your laser cabinet. A series of tiny fans are now used to force feed makeup air into the laser cabinet, which inturn improves how quickly smoke is evacuated from the system. The more air you move across the work table, the cleaner the results, which means less time scrubbing for you.
10. Weak and Strong air switching.
Double air assisting system. Weak air for engraving, strong air for cutting, automatically switching freely.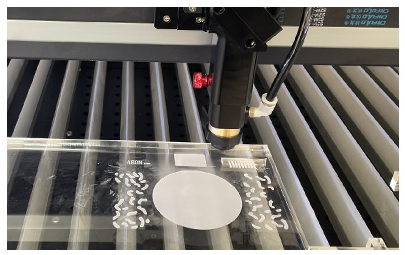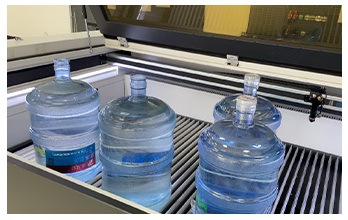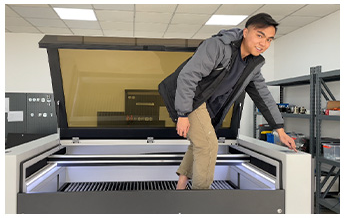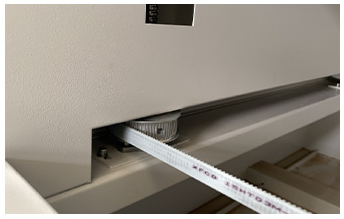 11. Powerful and Steady up/down system.
The up and down system adopted one belt driving, with a powerful stepper motor, which ensured the table up and down steadily, never tilted. Lifting capacity is up to 120KG.
12. Convenient scrap and product collecting system.
Cleanup is a breeze with a newly integrated scrap drawer. All of your cut pieces now fall into a conveniently located compartment below, which can be easily emptied to prevent scrap pieces from piling up and becoming a fire hazard.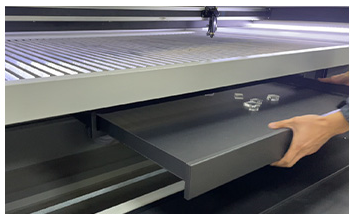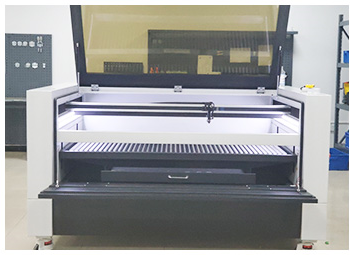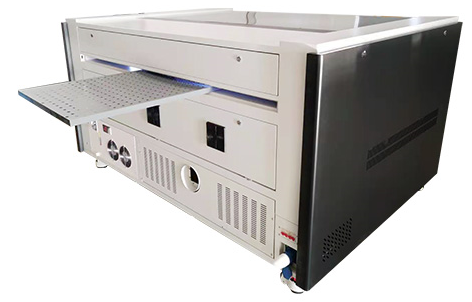 13.Effective table and front Pass through door.
The Supper Nova comes with slate table together with the honeycomb, which is suitable for cutting and engraving. There is a pass through door which could pass through extra length materials.
14. Detachable machine body to pass through narrow door or doorway.
The new Super NOVA is designed to pass through 80CM narrow door or doorway. The machine body can be divided into two sections, the height of the upper section is 74CM. After removed the supporting section, users could get it through the narrow door very easy.